Cities near Bristol
Counties near Bristol
The magic hand behind Temple Meads station was Isambard Brunel. He played a major part in so many areas of transportation that it is hard not to see why he is considered one of the most renowned engineers in the world. Any self-respecting terminus needs to be imposing and welcoming at the same time. Temple Meads fulfils that requirement and more. It is located a mile southeast of the city centre, and makes its northern cousin, Bristol Parkway, look small in comparison. The station has two entrances/exits, so to speak, through which trains depart depending on if they are going to Cornwall or not. There are fourteen platforms, but no number 14. An interesting story probably lies behind that one.
Now where does the name come from? If you look around, you will see the Temple Church, also called the Holy Cross Church. The Templar Knights built it in the XIIth Century. During World War II, it was badly damaged by bombing. The term "Meads" might come from the fact that the cattle market was nearly. The 1950s and 1960s were a period of urban regeneration; so many changes were made to the district, including the station.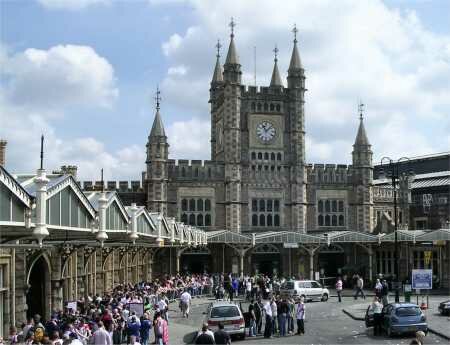 Brunel chose a wonderful location: facing the Floating Harbour. The terminus saw its first train leave to Bath on 31 August 1840 and to London Paddington a year later. Brunel was only 34. His original station was transformed into the Empire and Commonwealth Museum in 1999. The main train area is over 21 metres (72 feet) wide. Its roof is a wooden box frame with cast-iron columns supporting Tudor arches. The columns have the appearance of hammerbeams, which are usually seen in open wooden roofs. The design gives the illusion of greater height.

Standing close to Brunel's station was the Bristol and Exeter Railway built in 1844. It was torn down as its layout and size was probably judged insufficient for the expected train traffic. One of Brunel's former colleagues, Matthew Wyatt, built a new station between 1871 and 1878. He then extended Brunel's original station so that the two were joined together. A lot of cargo was carried unto to boats between the goods yard and the harbour, so he constructed the Bristol Harbour Railway to facilitate this process. In the 1930s, P. E. Culverhouse added two more platforms. In 1965, Brunel's original station was closed down, and the structure linking the two stations was made into a car park. Both stations are deservingly grade I listed as each one played a part in opening up the United Kingdom.